Secure Sockets Layer (SSL) Certificates
Key Benefits of SSL Certificates from BoxLink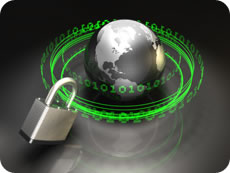 Strong Encryption
Our SSL Certificates offer true 128/256-bit encryption ensuring that your data is always secure.

99% Browser Recognition Rate
Customers look to their browsers to ensure the sites they are connecting to are secure and authentic. SSL certificates from The Planet come from GeoTrust, the industry leader in SSL Certificates.

Meet Compliance Requirements
Some compliance mandates require encryption, such as the PCI Data Security Standard, while other policies or standards may require critical data protection. SSL Certificates help you demonstrate compliance with these kinds of regulations and policies.
RapidSSL
QuickSSL
QuickSSL Premium
RapidSSL (KD 15)
RapidSSL Certificates enable businesses to obtain fully functional and trusted SSL certificates and are ideal for securing internal Web sites.

RapidSSL is a 128/256-bit single root SSL certificate. FreeSSL.com owns the root used to issue RapidSSL certificates, which makes it a stable SSL offering. RapidSSL assures browser recognition rates of about 99 percent. If you perform any level of e-commerce transactions, and value warrants an SSL certificate from a known brand, or if you require advanced site seal technology, see our professional SSL certificates below.

QuickSSL (KD 30)
A highly trusted, highly credible single root install SSL certificate delivered in just 10 minutes. With QuickSSL you get true 128/256-bit SSL encryption that's fully compatible with the leading Web browsers.

QuickSSL enables your Web site to activate the browser's "LOCK" icon, indicating data will be protected from interception or tampering using secure sockets layer (SSL) encrypting technology. Therefore, our QuickSSL makes your on-line visitors of confident of safety and security in sending credit card account numbers and other confidential information over the Internet.

GeoTrust's exclusive automated authentication system ensures that QuickSSL certificates are issued only to authorized recipients. Lastly, the Quick SSL offers the same great encryption you get with the Rapid SSL, but you also have the ability to get your certificate re-issued if you change IP's, the RSA key is lost through an OS reload or other circumstance require it.

QuickSSL Premium (KD 50)
Our premium SSL package includes a highly trusted, highly credible single root install SSL certificate delivered in just 10 minutes, as well as a QuickSSL Premium Smart Seal for posting on your Web site.

With GeoTrust QuickSSL Premium Web server certificates, you and your customers can conduct secure Internet transactions with confidence backed by genuine 128/256-bit SSL encryption for less than what you'd pay for some other SSL solutions.

By activating the browser's "LOCK" icon, QuickSSL Premium assures online visitors that credit card account numbers and other confidential information cannot be viewed, intercepted or altered. Compatible with 99% of all browsers and most popular mobile devices, QuickSSL Premium certificates are the only certificates we provide which have mobile ubiquity. And because our automated authentication system is the most advanced in the industry, your customers and trading partners can be sure that QuickSSL Premium Web server certificates are only issued to fully authorized recipients. QuickSSL Premium now has two-factor, real-time telephony authentication for even stronger authentication. The QuickSSL Premium is the only offering that can secure mobile devices.